Certified Business Member Since June/2023
Tim Klippel                                                          
Business Since 2023
Phone # 661-403-4733
email: tim@northvalleyshandymanservice.com
website- None
Services offered– See list below.
Locations- Canyon Country, Ca          Zip code- 91351
UHA Certified– YES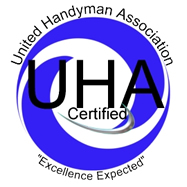 Passed Certified Exam– YES
UHA Verified- YES
Business Accredited- YES
Business Lic– N/A
Insurance– YES
Fraud Protection– New Business
Member Profiled- NA
 Business Documents Verified
Driver's License
EIN IRS Letter
COI Liability Insurance
Certificates–
Services offered-
HVAC
Minor duct repairs/replacement
Seal ductwork and connections
Comfort balance airflow by installing and/or adjusting volume dampers.
Trouble shoot airflow issues.
Deep clean outdoor condenser units
Repair and/or replace condenser line set insulation.
Remove and/or install HVAC grills.
Change furnace filters
Install filter grills, install filter racks.
Install grill/duct/fan for whole house exhaust.
Plumbing      
Faucet replacement
Faucet supply line replacement
Faucet shut off valve replacement.
Strainer basket replacement
Garbage disposal removal / replacement
Sink drain line repair / replacement.
Dishwasher drain line replacement.
Dishwasher supply line replacement
Bathroom sink pop-up stopper replacement
Bathroom sink pop-up drain replacement.
Caulk/seal sinks and countertops
Unclog sinks.
Bath / Shower
Shower head replacement
Caulk/seal bathtubs and showers
Toilets
Replace toilet flush handle.
Replace toilet fill valve assembly.
Replace toilet flapper.
Replace toilet seat.
Replace toilet wax ring.
Replace toilets.
Caulk/seal toilet to floor
Misc Plumbing
Replace washing machine hoses / hose bibs.
Replace washing machine drain hoses.
Clean dryer/dryer vent
Electrical
Replace ceiling fans.
Install ceiling fan rated electrical boxes.
Replace general lighting fixtures.
Replace outlets, switches.
Replace bathroom exhaust fans.
Replace wired smoke detectors.
Replace battery operated smoke detectors.
Doors
Adjust doorknobs / deadbolts.
Replace doorknobs / deadbolts.
Install weather stripping.
Install door stripping.
Adjust sticky doors (Hard to open/close)
Windows
Install new blinds.
Repair window springs
Repair window locks
Caulk around windows
Walls
Minor patch/paint (screws, nails, dings, dents)
Moderate drywall patching (1/4" to fist sized holes)
Major drywall patching (fist sized to suitcase sized)
Minor tape, float, texture, paint drywall in small areas
Carpet
Repair squeaks / creaks in floor or stairs
Appliances
Replace refrigerator water filters.
Dryer vent cleaning
Miscellaneous
Repair wooden fencing/gates
Assemble furniture.
Hang pictures, clocks.
Mount TV brackets
Install towel bars.
Install toilet paper holders.
Clean rain gutters (single story homes)
Service areas listed below.
91321, 91322, 91382, 91350, 91351, 91354, 91310, 91384, 91354, 91355, 91385, 91342, 93510, 93543, 93550, 93551, 93552, 91401, 91402, 91403, 91404, 91325, 91324, 91311
Comments:
New member in good standing and Verified by the UHA